This is a truly very light, tender and tasty dish. Even the skin is delicious – Christmas Full-flavoured Salmon.
Inspired by this entertaining post. The secret lies in good ingredients. Always, but with fish especially. Trust me, during my research I have tried many variations, as well as different sources of a salmon.Here I present you, how it tastes the best. That is what The Holiday Season deserves. Check out for my new upgrade of The Potato Salad. It is refreshing and light, includes all the winter humble veggies. The possible alternative to the more known classics as per in my Nile Perch with Christmas Potato Salad Recipe.
The combination of dill, citrus and spices is just stunning. It works together so well. It is fresh, full of flavour and luxurious at the same time. Must try! Do not forget to style your festive dining.
I present you my ideas. For more inspiration, read Part 1 of My Christmas Menu. Happy Holidays!
Total Time: 45 minutes
Shopping List
Christmas Full-flavoured Salmon:
400g of top quality Salmon Filet, cleaned and drained
½ of medium lemon, sliced in halves
1 large orange, sliced in halves
1 tablespoon of ginger, peeled and sliced
3 cloves of garlic, crushed, peeled and finely chopped
1 handful of fresh dill, hardly chopped
½ cup of dry white wine
1 star anise
A splash of olive oil
salt and ground black pepperThe Potato Salad:
5 medium potatoes, washed
1 large carrot, washed
1 white carrot, washed
2 slices of celeriac, washed
1 handful of fresh chives and parsley, washed and hardly chopped
Sea salt, ground black pepper
The Salad Dressing:
Few tablespoons of good quality meat or vegetable stock (I used beef stock spiced up with star anise)
2 tablespoons of olive oil
2 teaspoons of Dijon mustard
2 teaspoons of caster sugar
2 tablespoons of vinegar
Instructions
The Potato Salad
First, cook the potatoes in a deep pot filled with salted cold water. Bring it to boil and cook for about 25 minutes until the potatoes get soft.
Meanwhile, add carrot, white carrot and celeriac and cook for about 10 minutes until they soften. Then, take it all out and let it cool down.
Once the potatoes and veggies are cooled down a bit, peel them all. Grate the potatoes and chop the carrots and celeriac. Place them all into a serving bowl and season with salt and pepper. Mix.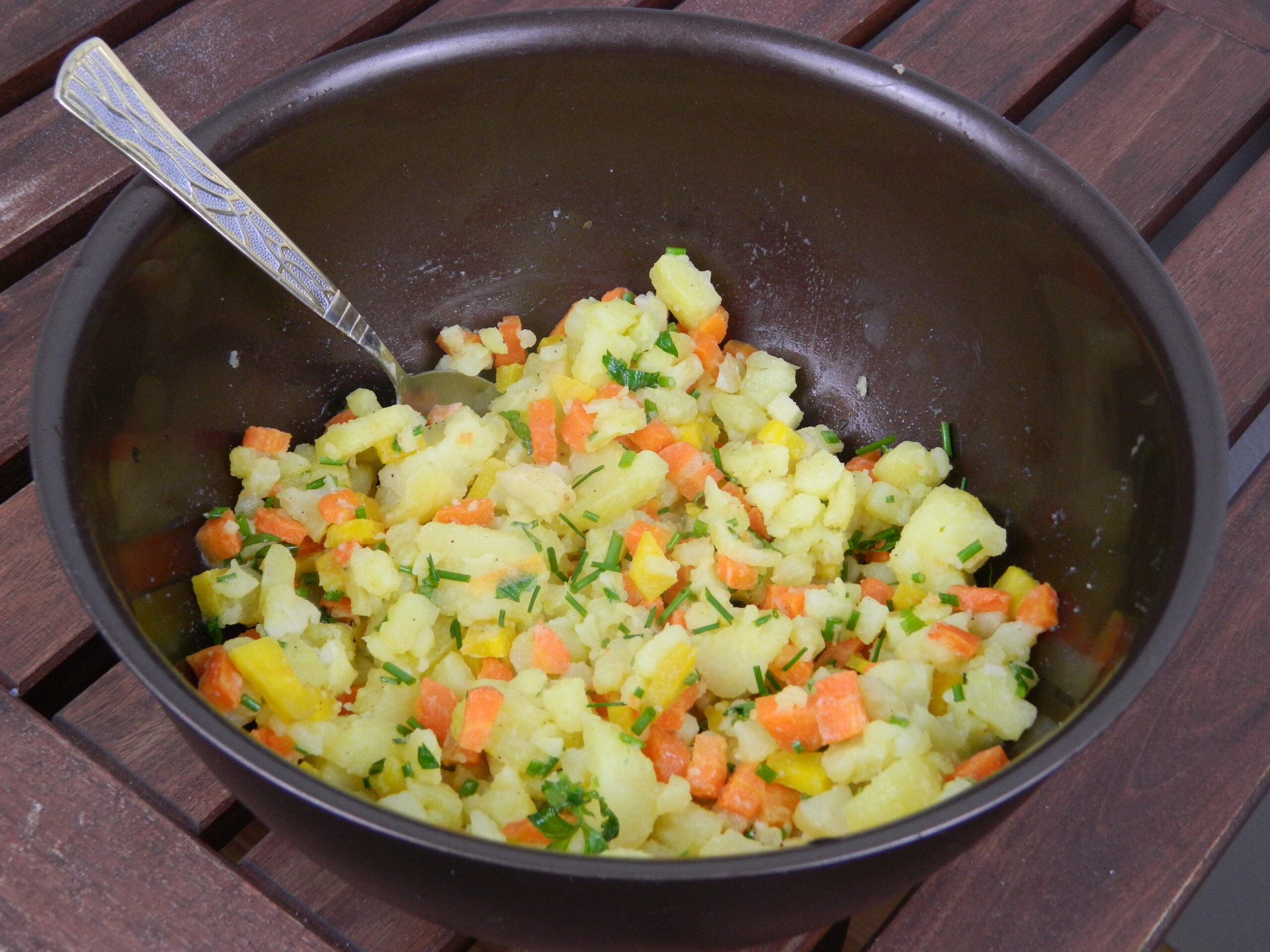 The Salad Dressing
In a small mixing bowl place 2 splashes of olive oil, few spoons of a good stock, 2 tablespoons of vinegar and teaspoons of the mustard and sugar. Mix well with a balloon whisk and taste.
Mold it over the salad and taste. Sprinkle with the fresh chives and parsley and give it a good stir. Set aside in room temperature until Christmas Full-flavoured Salmon will be ready. The taste comes through with the time even better.
Preheat the oven to 200 degrees.
Christmas Full-flavoured Salmon
First, create the base. Line a medium baking tray with aluminium foil. Leave some foil on the sides, so you can nicely seal it from the top, resembling a small tent.
Next, put ½ orange and 2 halved slices of lemon in between.
My Culinary tip is to use most of the orange and just little bit of lemon. The lemon has a very strong taste. If you use too much, it gets too bitter as it is shown on my first picture.
Salmon skin-side down on the citrus. Season with salt and pepper and pinch of olive oil. Rub it nicely all over.
Top up with the rest of orange and lemon. Flavour it up with the ginger, garlic and star anise. Sprinkle with a good amount of the dill and cover with the aluminium foil.
Baste with the white wine and seal it on the top.
Bake in the oven for about 25 minutes on 180 degrees. Serve with the chilled potato salad. Yummy!
Serve with a splash of mayonnaise and a glass of white wine.
Makes 3 serves.