My personal sadness about revealing this scrumptious recipe is, that it is in honor of my lovely grandma, who passed away recently. Granny's hazelnut chocolate cake deserves fame, let me tell you! Just the way she was: bright, thoughtful, deep & beautiful. There isn't that much better of a smell than the smell of roasted hazelnuts.
Her recipes will live in our memories, especially this birthday cake of my dad. When I was younger, I didn't like it. He was born on New Year's Day, and he always expected us to come, celebrate, and have a glass of bubbly with this chocolate cake. Who needs that after the New year's party? In the past few years, I was baking the treat, which meant a lot for me because my granny could have criticized it. She has never done it in life, nor in her recipes. However, a few tips have been included. Therefore, it is my pleasure to share this recipe with all of you. Sending a big roast kiss to heaven, our Queen Mother.
This cake is suitable for children 3+ because of the hazelnuts and a bit too much sweetness.
Total time: 2 hours
The Sponge
Preheat the oven to 180 degrees.
Place all the hazelnuts in a large baking tray onto a sheet of baking paper. Bake in the oven for about 10 minutes until you can smell the nuts and the skins are coming off. Watch them and do not burn them!
Thereafter, place them into a colander and shake. This way the skins come off much easier. Blend until smooth. My tip is to blend hazelnuts smoother for the cream filling, less smooth for the sponge.
Afterwards, in a large mixing bowl place 140g of icing sugar with egg yolks. Mix until fluffy texture, when it doubles its size.
Next, smoothly stir in 140g of hazelnuts with almonds and baking powder.
Then, gently mix with egg whites, whisked into snow peaks. Mix and turn over with spatula until smooth texture. Do not overmix it.
Mold it into a lightly greased springform of 24cm (alternatively into 2 springforms). Decrease the temperature to 150 degrees and bake for about 1 hour.
The Filling
Meanwhile it is baking, in a large mixing bowl put butter, sugar, 200g of hazelnuts and melted chocolate.
Mix until you have a very smooth texture. When it is just right, add a splash of milk for a silky texture. Set aside.
PRESENT THE HAZELNUT CHOCOLATE CAKE
Firstly, let the hazelnut chocolate cake cool down entirely. Ease from the springform and flip it into a clean kitchen towel. Once it is chilled, continue. Make 3 cuts, so you get 4 equal layers. I have also made it with 2 only, but in 4 layers, you have got more filling. Brush the excessive crumbs away.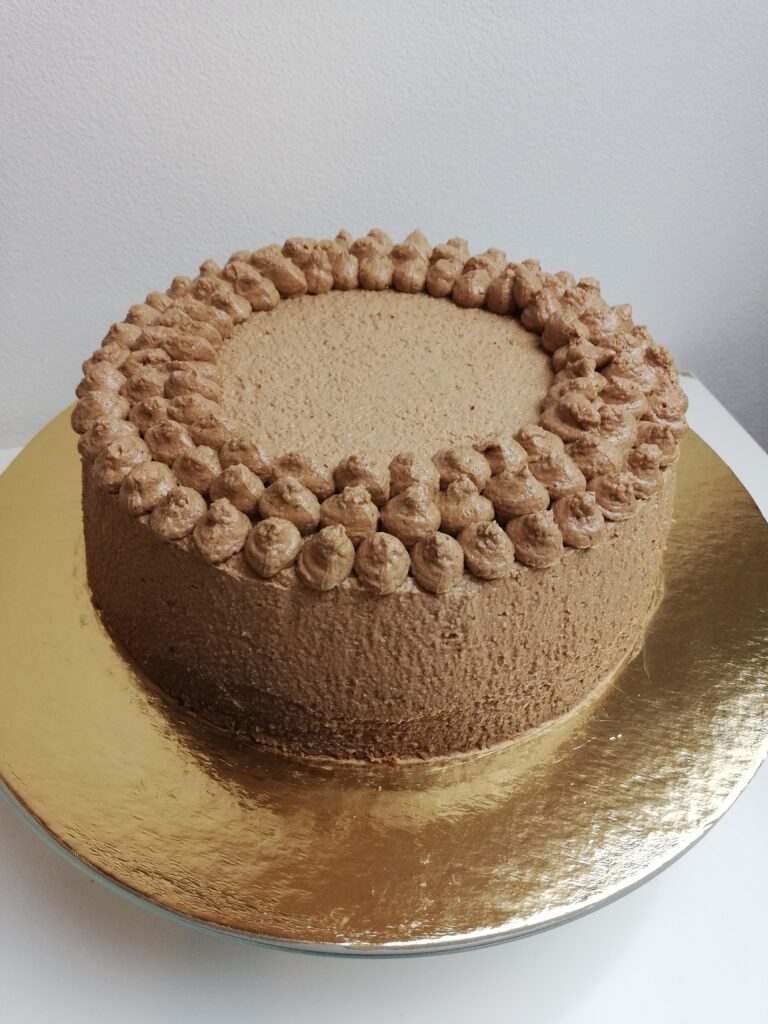 Layer with a good amount of the filling and continue all the way to the top. Cover with the scrumptious cream on top and on the sides of the hazelnut chocolate cake. Refrigerate until the next day, so the taste comes within. Thereafter, decorate according to your preference. Makes 12 serves.